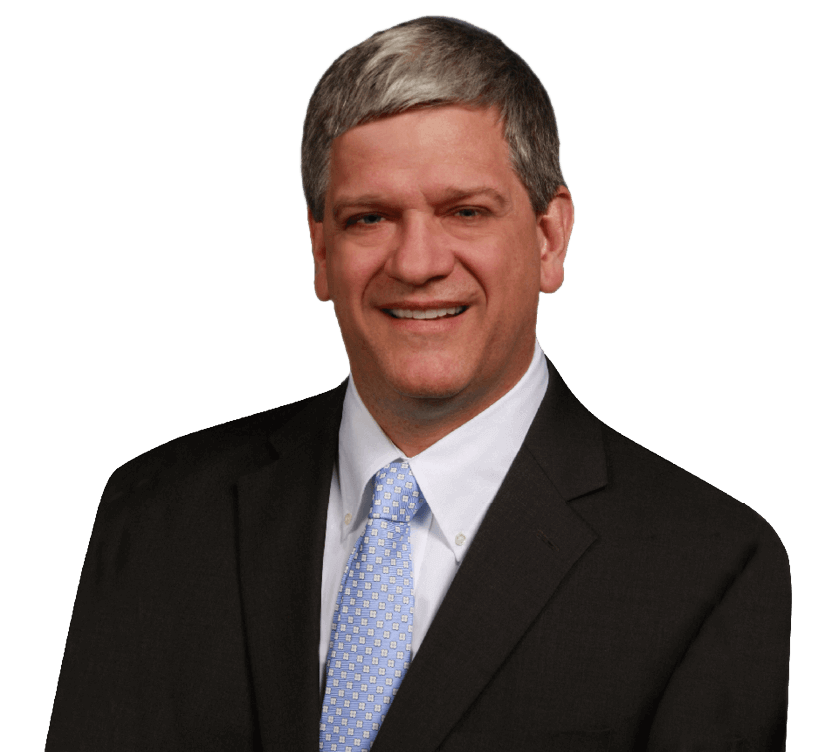 Nationally recognized for his outstanding intellectual property legal work and with almost three decades of courtroom and transactional experience, Bruce "Chip" Morris advocates for clients on a wide range of intellectual property litigation and counseling matters.
Whether he's recovering lost profits for the patent holder of one of the most successful infomercial products, protecting the trade secrets of how to build the world's fastest street car, representing a major television network against a cyber-squatter, or working on the cutting edge of covenant not-to-compete and trade secret law, Chip vigorously counsels, protects, and defends the clients he represents.
As head of the firm's Intellectual Property group, Chip brings extensive patent, copyright, trademark, and unfair competition litigation experience to his practice. With wide-ranging experience in trade secret and covenant not-to-compete cases, he has served clients in more than 70 successful trials, injunction hearings, arbitration, or contempt hearings. In addition, he has authored persuasive briefs in two of the most significant appellate decisions in the area and has been quoted nationally by CNN.com and WIRED.com as an expert on trade secret cases of national interest.
As a litigator, Chip sees many cases that stem from poorly written agreements constructed by lawyers who do not understand how agreements work in the real world. It is through his extensive litigation experience that he has learned that including clear and favorable provisions in his agreements that have been "litigation-tested," adds value to his clients on the transactional side. He would much rather get things right on the front end than have to come in later for an expensive court battle.
As a trusted advisor, Chip frequently prepares and guides clients in licensing issues and agreements, intellectual property protection policies, employment policies and agreements, and other business-related matters, including performing IP due diligence in significant asset purchase transactions.
Chip often makes presentations on intellectual property-related topics at conferences and seminars. He is the current Chairman of the ABA Copyright Litigation Sub-Committee on the DMCA and the former Chairman of the American Bar Association's Sub-Committee on Trade Secrets and Tortious Interference with Contractual Relations. He is also a contributor and advisory board member for the IP Litigator. Chip's recent work involves authoring two chapters of the ABA Copyright Litigation Strategies book.
Away from the Office
As a former varsity football player for the University of Texas Longhorns, Chip loves college football and frankly, all sports. He also enjoys spending time with his family and traveling. Chip has long been involved in community service, having been selected to the Leadership Houston Class of XIX, serving on several non-profit boards, and volunteering for the Star of Hope homeless shelter, the University of Houston Law Center, and the American Cancer Society, among others.
Practice Areas
China
Complex Commercial Litigation
Esports
Intellectual Property
Labor & Employment
Credentials
Bar Admissions
State Bar of Texas (1991)
U.S. Supreme Court
U.S. District Courts for the Northern, Southern, Eastern, and Western Districts of Texas
U.S. Court of Appeals for the Federal Circuit
U.S. Court of Appeals for the Fifth Circuit
Education
University of Houston Law Center, J.D., 1991
Abilene Christian University
University of Texas at Austin
Experience
Representative Cases:
Successfully represented clients in over 50 trade secret and covenant not to compete cases and obtained favorable appellate decisions in two of the leading cases in the area.
Obtained for clients over 70 favorable temporary restraining orders and/or temporary injunction orders protecting their respective intellectual property.
Co-authored a successful brief to the U.S. Supreme Court on patent issues.
Obtained favorable jury verdict awarding over $19 million in consumer product trademark, copyright, and patent infringement action against a major infomercial company.
Obtained bench verdict in consumer product trademark and copyright infringement case against five national retailers that resulted in a multi-million dollar settlement for the client.
Obtained favorable jury verdict of non-infringement in patent infringement case against manufacturer of walkway molds. The jury verdict dissolved the injunction that had been entered against the client prior to our entering the case.
Obtained favorable bench verdict in patent infringement action against manufacturer of oil field measuring devices.
Obtained favorable liability finding in contempt action against patent infringers in the oil field industry.
Obtained favorable contempt finding in oil field industry trade secret case.
Successfully prosecuted trademark infringement action against valve manufacturer.
Successfully defended large garbage truck manufacturer against patent infringement allegations.
Successfully settled patent infringement case for an online retailer.
Successfully represented large television network against cyber-squatter.
Successfully obtained injunctive relief against a future trademark infringement in favor of a high-profile political advocacy group.
Counseled multiple clients on IP licensing and other IP transactional matters.
Counseled multiple clients on employment law matters.
Successfully obtain injunctive relief, damages and attorneys' fees for client in arbitration involving non-compete/non-disclosure agreement.
Successfully represented oil company in international lease dispute.
Successfully represented oil company in international offshore platform contract dispute.
Obtained favorable jury verdict awarding over $1.8 million in real estate easement case.
Successfully defended large oil company in contract dispute arbitration.
Notable Appellate Decisions
Gunn v. Minton, 133 S.Ct. 1059 (U.S. 2013) (reversing Texas Supreme Court's ruling that the Federal Circuit had exclusive jurisdiction to hear attorney malpractice claims involving patents).
Alex Sheshunoff Management Services, L.P. v. Johnson, 209 S.W.3d 644 (Tex. 2006) (relaxing requirements for enforceable non-compete agreements in Texas).
Subaru of America, Inc. v. David McDavid Nissan, Inc., 84 S.W.3d 212 (Tex. 2002) (setting forth requirements for when cases must go to an administrative body prior to filing suit).
T-N-T Motorsports, Inc. v. Hennessey Motorsports, Inc., 965 S.W.2d 18 (Tex. App.—Houston [1st Dist.] 1998, pet. dism'd) (upholding finding of trade secret misappropriation despite there not being either a non-disclosure agreement or non-compete agreement).
Additive Controls & Measurement Sys., Inc. v. Flowdata, Inc., 154 F.3d 1345 (Fed. Cir. 1998) (upholding trial court's finding of contempt for patent infringement against a non-party).
Hupp v. Siroflex of America, Inc., 122 F.3d 1456 (Fed. Cir. 1997) (upholding jury finding of non-infringement of design patent).
Additive Controls & Measurement Sys., Inc. v. Flowdata, Inc., 96 F.3d 1390 (Fed. Cir. 1996) (substantially upholding trial court's denial of Rule 60(b) motions regarding injunction entered as a result of patent infringement finding).
Publications
Author/Speaker, "Drafting Contract Provisions That Don't Matter…Until They Matter," KRCL Energy Law Seminar, November 8, 2018
Energy Law Today, "Top 10 Mistakes When Drafting Non-Competes in the Oil Patch," July 2018
Energy Law Today, "Texas Appeals Court Issues Decision That Could Undermine Non-Solicitation Agreements," June 2017
Energy Law Today, "More Practical Reasons for Oilfield Service Companies to Own Their Employees' Cell Phones," April 2017
Author of Chapters 12-13, Copyright Litigation Strategies Book (ABA Section of IP Law 2017)
Contributing Author of IP Chapter of 2016 Edition of ABA Business Law Section's Recent Developments in Business & Corporation Litigation
Author, "Company Cell Phones: The Benefits", KRCL: Law in the Workplace Blog, May 26, 2015
Author/Speaker, "Drafting and Enforcing Non-Compete Agreements after Sheshunoff and Mann Frankfort," University of Houston Law Foundation, June 11-12, 2009
Author/Speaker, "Drafting and Enforcing Non-Compete Agreements after Sheshunoff," University of Houston Law Foundation, January 15-16, 2009
Author/Speaker, "Copyrights, Part III: Related Rights: Moral Rights and Other Copyright-related Claims," University of Houston Law Foundation, August 7-8, 2008
Co-author, "Cost Effective Discovery Strategies in Complex Litigation - Planning Discovery in the Brave New World," Litigation & Trial Tactics Course, University of Houston Law Foundation, 2007
"Overall Planning of Discovery," Litigation Trial Tactics, University of Houston CLE, Dallas, TX , December 2007
Co-Author/Speaker, "Cost Effective Discovery Strategies in Complex Litigation Planning Discovery in the Brave New World," Litigation and Trial Tactics Course, University of Houston Law Foundation, 2006
Co-Author/Speaker, "Effective Discovery Strategies: Asking for What You Want, Getting What you Need and Reducing Discovery Costs," University of Houston Law Foundation, December 7-8, 2006
Author/Speaker, "Intellectual Property Law Principles for Non-Profits," Houston Bar Association, September 20, 2003
Author, "Invoking the Fifth Amendment Right Against Self-Incrimination in Trade Secret Cases," IP Litigator, January 2003, Vol. 9, No. 1
Author/Speaker, "Hot Topics in Cyberlaw," Houston Bar Association, July 26, 2001
Author/Speaker, "Preliminary Relief in Trademark and Copyright Cases," Intellectual Property Seminar, May 1998
Author/Speaker, "A Litigator's Perspective on Protecting Trade Secrets in the 90's," Houston Bar Association's Intellectual Property Institute, January 9, 1998
Author, "Protecting Confidential Information," Employment Seminar, January 1998
Honors
AV Preeminent®, Martindale Hubbell
Top Lawyers – Intellectual Property Rights, Houstonia Magazine (2016 – 2017, 2019)
President's Volunteer Service Award (Bronze Level), Star of Hope Homeless Mission in Houston
Texas' Top Rated Lawyers, Legal Leaders magazine (2015 – 2017)
Associations
Current Subcommittee Chairman of the Copyright Litigation Committee's subcommittee on the Digital Millennium Copyright Act (DMCA) for the IP Section of the American Bar Association
Current Advisory Board Member and Contributor to Aspen Publishing's IP Litigator
Former Chairman, Co-Chairman and current member of the American Bar Association Intellectual Property Section's Trade Secret and Tortious Interference with Contractual Relations Committee
Former Subcommittee Chairman and current member of the American Bar Association Intellectual Property Section's Copyright Litigation Committee
Current member of American Bar Association Intellectual Property Section's Trademark Litigation committee
Current member State Bar of Texas Intellectual Property and Litigation Sections