Goodbye Steel and Aluminum Tariffs! (For Mexico and Canada Metals)
In a recent KRCL Energy Practice Group seminar, I discussed the genesis and impact of metal tariffs imposed by the Trump administration. These Trump Tariffs have had a tremendous impact on energy infrastructure construction and midstream activities throughout the United States, prompting companies to seek relief (in the form of product exclusions) with the Department of Commerce and in the courts.
President Trump is waving goodbye to the tariffs on imported steel and aluminum from Mexico and Canada, in order to aid the passage of the United States-Mexico-Canada Agreement (the replacement for NAFTA).
About 30% of All Steel Imports Will Be Free From Tariffs
While there remains a majority of countries whose steel and aluminum exports will still be subject to tariffs – only a handful of countries have been exempted, including Australia (steel and aluminum) and South Korea (steel only) – the removal of Canada and Mexico from the Trump Tariff list is major.
As shown below, Canada and Mexico ranked first and third, respectively, in terms of sources of imported steel, in 2018. That's 30% of all imported steel (regardless of product type), and has been consistent year-over-year.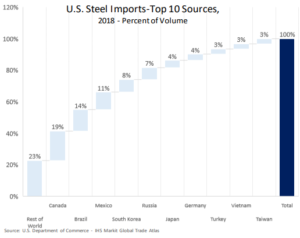 Positive Industry Reaction
Although the news has just been released, the American Petroleum Institute has already said: "We applaud the Administration for reaching an agreement with Canada and Mexico to lift the 25 percent steel tariffs and not replace them with harmful quotas that would stifle U.S. investment in manufacturing and energy infrastructure." The American Chemistry Council, one of the leading chemical trade associations, said: "The chemical industry can now get back to the business of building multimillion and multibillion dollar chemical manufacturing facilities across the United States, creating jobs, and growing our exports to the rest of the world."
Another industry group that matters, the Association of American Railroads, has yet to issue a news release, but we expect its reaction to also be positive. Near the outset of the Trump Tariffs, the API, ACC, and AAR joined in an editorial criticizing the tariffs as stifling energy infrastructure development and placing hundreds of billions of dollars of projects at risk.
Although the situation remains fluid, the lifting of these tariffs will immediately moot thousands (perhaps tens of thousands) of product exclusion proceedings with the DOC, and increase supply confidence.
Demetri Economou is an associate in KRCL's Energy Practice Group, based in Houston. Should you have any questions about these or other legal issues, please contact Demetri at deconomou@krcl.com.