Kane Russell Coleman Logan Adds Two Experienced Litigators in Houston and a Corporate Transactional Lawyer in Dallas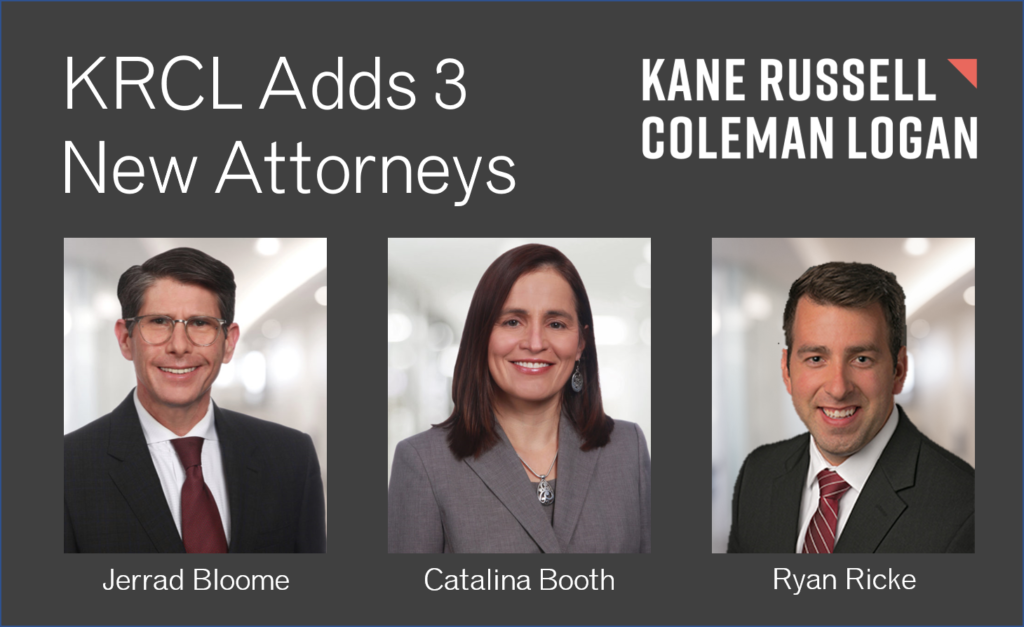 Kane Russell Coleman Logan PC has added three new lawyers to the firm. Jerrad Bloome and Catalina Booth, both highly experienced litigators, have joined the KRCL office in Houston. Ryan Ricke, whose practice focuses on business and corporate transactions, has joined the Dallas office.
For nearly 25 years, Jerrad Bloome has represented clients in virtually all aspects of civil litigation from pre-litigation strategy through appeal. He also provides counseling and advice to clients on a wide range of litigation issues.
Catalina Booth has substantial experience in transportation law, and particularly in cases involving commercial vehicle accidents and railroad accident cases. She was in-house counsel for Union Pacific for 9 years.
Ryan Ricke began his career working with the in-house counsel for two international corporations and has a keen understanding of the diverse needs of businesses across an array of industries. He advises clients in mergers and acquisitions, succession planning for closely-held businesses and commercial finance transactions.
"Jerrad and Catalina are excellent additions to the litigation group in our Houston office with their extensive experience, and Ryan likewise brings tremendous transactional capabilities to our business and corporate group in Dallas," said Mike Logan, a founding Shareholder and head of lateral recruiting for the firm. "We are proud that the culture we have built at KRCL continues to attract talented lawyers like these to the firm. We remain in growth mode as we look to add additional laterals to the firm who can supplement our existing talent pool."
Kane Russell Coleman Logan PC is a full-service law firm with offices in Dallas and Houston. Formed in 1992, the firm provides professional services for clients ranging from Fortune 500 companies to medium-sized public and private companies to entrepreneurs. KRCL handles a wide array of transactional, litigation, employment, and bankruptcy matters in Texas and throughout the country.