Texas Lawbook: KRCL Sets Succession Plan in Motion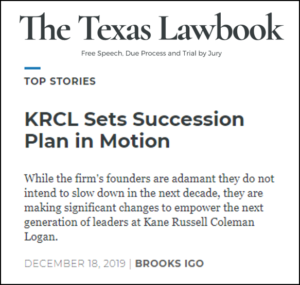 Texas Lawbook published an article about the change in KRCL's firm management. The article focuses on the shift in leadership -- highlighting attorney Karen Cox as the new chair of KRCL's board -- and announces KRCL's shift to a C-suite business model.
Excerpt from article:
Coleman said selecting Cox as chair "is probably one of the only things [the firm's leaders] had immediate consensus on.
"In a lot of ways, I call Karen the soul of the firm," [Coleman] added.
Cox says diversity is one of her key initiatives and a cause she is focused on personally.
"I appreciate the firm choosing a woman to lead the firm in this new phase," Cox added. "Our clients want a more diverse law firm to meet their needs. It expresses the firm's commitment to diversity being a primary focus for the future."
Read the full article on Texas Lawbook (subscription required)