COVID–19: Contract Defaults and Insurance for Lost Income
The coronavirus is undoubtedly going to create contract disputes in ways that we cannot fully imagine. Parties will call their attorneys asking if they can send default letters or if they have defenses for missing contractual deadlines. Terms such as "force majeure," "acts of God," "impossibility of performance," and "Oh my gosh, the contract is silent on this," will become staples of our legal diet. Calls asking, "Does this fall under my business interruption insurance?" will become common. Unfortunately, there is no one answer to all of these questions because the nature of the contract disputes will vary widely depending on the industry, facts, locations, and laws involved in the particular dispute.
Companies will be faced with contractual defaults caused by workforce unavailability, supply claim issues, and an inability to access properties that have been shut down. These events will disrupt states' contracts, loan closings, non-payment of rents, and loss of business income as a result of property closures. The issue is whether the law offers any relief to the party that is in default or has lost business income.
This white paper by KRCL attorneys Charles Aster, Don Waltz, John Sigety, Ashley Veitenheimer and Katharine Edwards sets out to provide general guidance and focuses on four areas:
federal common law,
New York law,
Delaware law, and
Texas law.
These were selected as many bank loan and international contracts are under New York law; a disproportionate number of equity and entity documents are governed by Delaware law; and, finally, we are a Texas law firm so, obviously, many of our clients' transactions are governed by Texas law.
The legal battleground regarding contracts will center around two areas:
the applicability of force majeure provisions in contracts; and
the applicability of the doctrine of impossibility or impracticability of performance.
Generally, if the contract at issue has a force majeure clause, the language of the force majeure provision will be of critical importance. If it lists specific events that will relieve a party of its contractual obligations, but does not include either specific language regarding pandemics or general language that might be interpreted to encompass a pandemic, epidemic, or outbreak, a court might conclude that it was the parties' intent to exclude such events. While that would seem to be an absurd result, courts will not construe force majeure provisions in a way that alters the intent of the parties if it appears they intended to exclude viral outbreaks from the clause.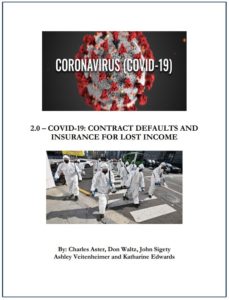 Download the full white paper for more information on about COVID-19 and these legal issues:
Force Majeure
Impossibility or Impracticability of Performance
Insurance Coverage for Business Interruption