Kane Russell Coleman Logan Announces Jaime DeWees and Michael Twomey as New Directors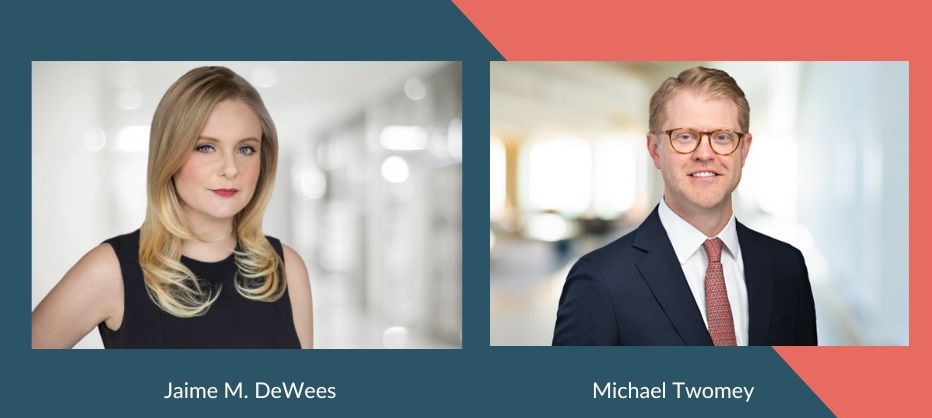 Kane Russell Coleman Logan PC (KRCL) announced that Michael Twomey and Jaime M. DeWees have been elected Directors.
"We are extremely proud of Michael and Jaime," said Robert LeMay, Chairman of the Firm's board. "I have seen first-hand the contributions they have made to advance our clients' business goals, and I also appreciate how they show their commitment to our mission and values in their service to the Firm. I am honored to add them to our Director ranks."
Since the Firm's founding 30 years ago, it has grown into a team of 80 lawyers with offices in Dallas and Houston. The promotions of Twomey and DeWees are part of a growth and leadership transition plan that the Firm has implemented. KRCL understands the key to successful law firm succession planning is early strategizing. It is important to preserve a culture and legacy and secure a future for the next generation of leaders.
This past year, the Firm relocated its Houston office to a new, more innovative office space that aligns with the Firm's strategic growth plan and that continues to foster expansion opportunities and attract exceptional talent. Last January, KRCL also appointed Roland Hamilton, a highly experienced litigator, Director-in-Charge of the Houston office.
***
Jaime M. DeWees
Jaime is a 2015 honors graduate of the Dedman School of Law at Southern Methodist University. An attorney in the Dallas office, DeWees represents clients in real estate and commercial litigation in matters involving breach of contract, breach of fiduciary duty, investment fraud, partnership and joint venture disputes, and intellectual property disputes. She manages complex cases, arbitrations, and administrative proceedings, from inception to resolution in state and federal forums across the country.
Michael Twomey
Twomey's practice focuses on employment-related matters. A growing portion of Michael's practice includes data privacy issues as well as the protection of sensitive commercial data. He is Board Certified in Labor & Employment Law by the Texas Board of Legal Specialization and is based in the Houston office.
---
About KRCL
Formed in 1992, Kane Russell Coleman Logan PC is a full-service law firm with offices in Dallas and Houston. The Firm provides professional services for clients ranging from Fortune 500 companies to medium-sized public and private companies to entrepreneurs. KRCL handles a wide array of transactional, litigation, employment, and bankruptcy matters in Texas and throughout the country. For more information, visit www.krcl.com.